New Patients
Chiropractic Spinal Care Centre is a bright, beautifully designed place that will make you feel comfortable the moment you arrive. Our staff is ready to warmly greet you. We look forward to helping you!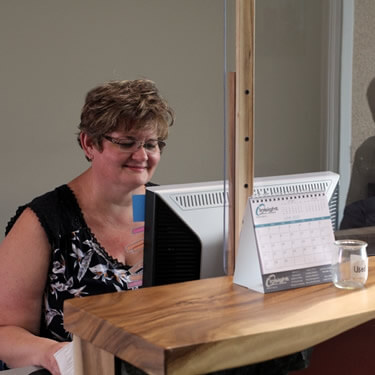 From your first call, you'll know all charges involved and the time it will take. You'll receive an email with the new patient paperwork so you can print it at home and bring the forms in completed. If you haven't done so, your visit will be a little longer, taking up to an hour. If your paperwork is filled out ahead of time, you'll be here about 30 minutes.
You and Dr. Pagenkopf or Dr.Pyrozko will sit down to have a consultation to discuss what's brought you in. If we think you're in the right place, we'll explain the type of examination we need to do and what we're looking for. Your consent will be obtained before getting started. In most cases, treatment is possible on the first visit, and before any treatment is performed, you will receive a thorough explanation. Again, your consent will be obtained before any treatment is performed.
When you return, Dr. Pagenkopf or Dr. Pyrozko will have put together a report that explains all findings from your exam and what they thinks is the best way to approach your care. It's your choice how much care you like, but you'll get our recommendations so that you can decide for yourself.
You'll be in and out quickly. We think you will find the environment inviting and relaxing. You'll typically be on your way again within 15 minutes.
Contact Us Today
Call or email our team now to learn more about what we may be able to do for you!
CONTACT US »

New Patients | (780) 963-7090